Tags
Related Posts
Share This
Project Integra returns to FF Battle!
Project Integra returns to FF Battle!
By Brian Gillespie
Carter's Project 1993 Integra made a return to Super Street's FF Battle 8 Presented by Continental Tire held at Willow Springs Raceway on the Streets of Willow track. If you remember, last year project Integra finished last at the 2015 FF Battle. Carter had dreams of taking car from "worst to first" this time around so we made some big modifications to the car.  We even invited Oscar Jackson, fresh from a win at SCCA Nationals in the T4 class, to pilot the car and give us our best shot at victory.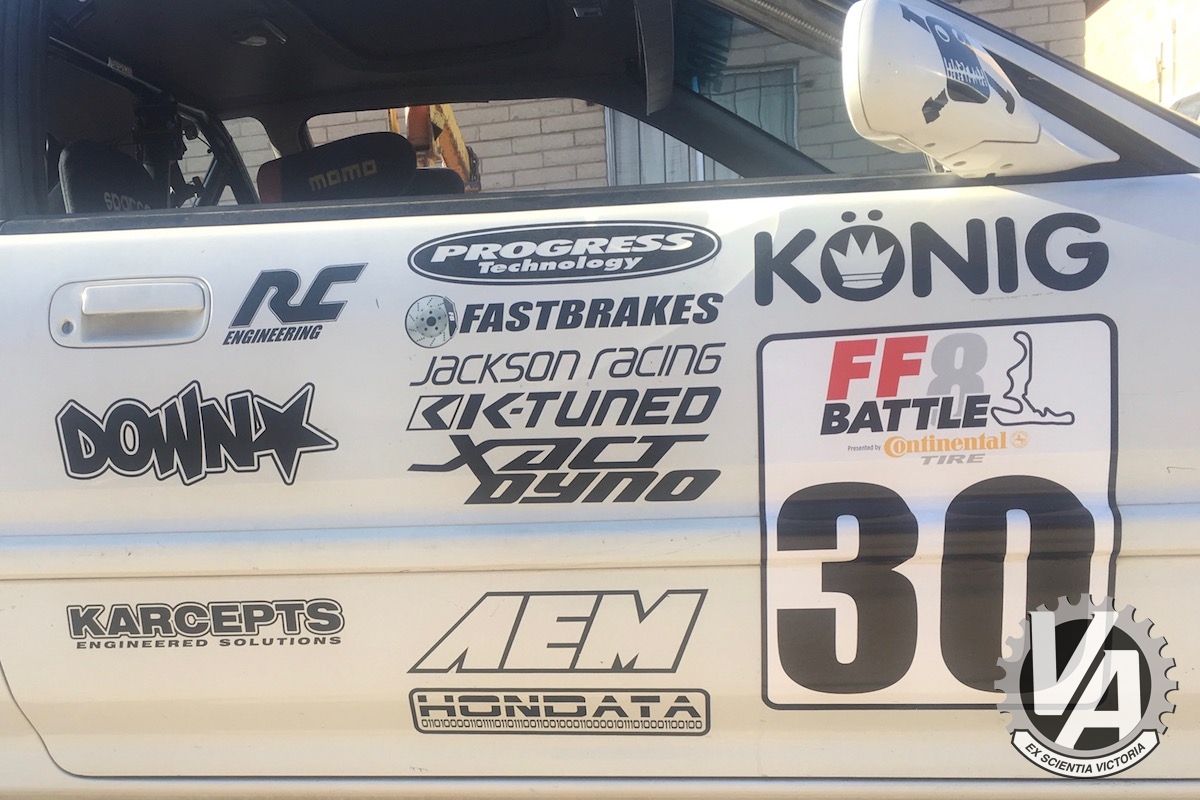 Here are the things we changed.
Konig Milligram 18 x 10 front and 18 x 8.5 rear wheels
Continental tires 285/30ZR18 tires up front and 245/40ZR18
Larger Fastbrakes front brake kit with steel braided brake lines
E85 conversion with Walbro fuel pump and K-Tuned Fuel lines
Custom cold air intake with Vibrant bell mouth velocity stack
SPC Performance rear lower, upper control arms and toe links and adjustable upper ball joint
Karcepts 36mm swap hubs (PN KWH08) with 5 lug option and Integra Type R rear trailing arms
Hasport DAK Axles with 36mm outer joints
On the Track
The modifications didn't help as much as we thought though, Continental Tire changed the tire this year and because it was new, didn't have all the sizes available. The Integra wound up with a much taller front tire than we had tested with and it rubbed everywhere in the front end. To further aggravate the rubbing, we also underestimated the grip we would have with the front end and were severely under sprung. If you watch the video below, you can see smoke pouring off the left side on the long right-hand uphill sweeper at Streets of Willow.
We now have a list of improvements for next years FF Battle. Stiffer springs, a better sized tire choice and a lot more testing.
The results
In spite of the difficulties, we still managed to finish 3rd this time around. A little short of our goal of finishing first.
Reading the official results at superstreetonline.com strangely, Carter's car is listed as an invited guest and not an official entry. It also states that the car wasn't legal per the rules. We pride ourselves here at VTEC Academy as rule abiding competitors. Strangely the winning car was wasn't actually legal by the rules mandated in the entry and the second place car of Ken Suen's was also made illegal by Ken as he stripped some necessary interior parts out of his car in an effort lighten the car to beat the time set by Carter's Integra.
We didn't protest at the time due to the fact that many of the cars lacked the parts necessary to make them legal according to the mandated rules and it didn't seem they were interested in enforcing the rules. But if you look at the cars that actually fell within the rule set, then Carter's Integra really did go from worst to first! Congratulations Carter!
Nothing but Hondas
That's exactly what you'll find at VTEC Academy. Not because some of the other automakers' cars that inherently drain the life out of the driving experience bore us, but because Soichiro Honda's passion for motorsports and his company's ability to express that in the machines they produce make a whole lot of sense.
VTEC Academy is a place for Honda fans who feel the same way and who seek the most accurate technical information and commentary to continue that very legacy and make whatever Honda it is that they drive just a little bit better. And faster.
The editors and contributors of VTEC Academy are some of the industry's most experienced and trusted, which means the informative, unique perspectives you need are all right here. And, like you, we're also obsessed with Hondas.
So, subscribe to our channel and hit us up at vtecacademy.com or, if you're into social media, you can get your daily dose of VTEC Academy on Instagram, Facebook and Twitter. We're always on the look out for cool and fast Hondas.